Last week GN Delivered 5 vertical cutting dryer and 10 units Decanter centrifuge to Nigeria. All these equipment were used for oil base mud treatment, the vertical cutting dryer are install after shale shaker of solids control system, which is used to dryer the drill cutting and recycle the involved mud inside of solids. Nigeria is one of our biggest market, and we had cooperate with this customer for more than 10 years. The client purchase from GN almost every year.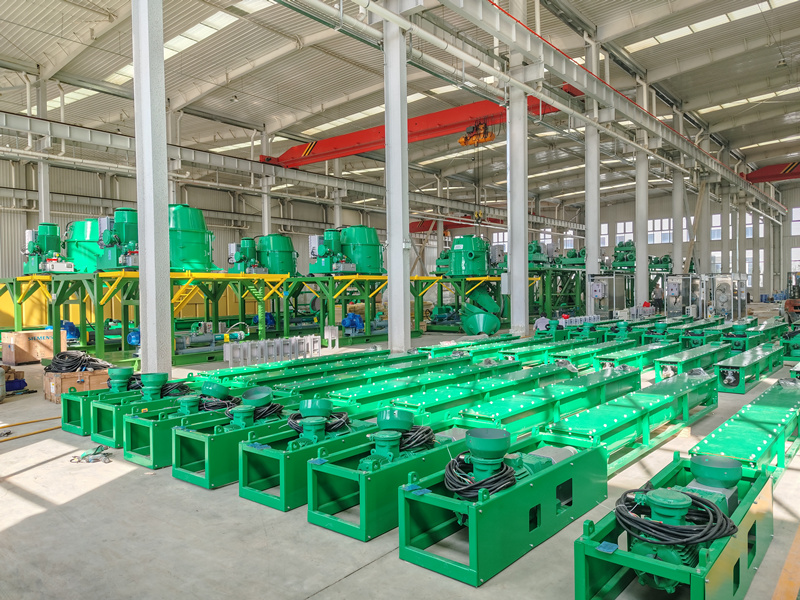 In this order, client required discharged from all machine without dropping on ground. Directly transfer the discharged machine into next machine without stop and non pollution to environment. In the case, we add lots screw conveyors to catch the solids and transfer them to next machine. For example, the screw conveyor will directly receive the solids from shale shaker and feed them into vertical cutting dryer. Below the vertical cutting dryer, there are also equipped screw conveyor,when the solids discharged from vertical cutting dryer, the conveyor will transfer them to truck and transport them to other site for further treatment. Same with shale shaker and vertical cutting dryer, below the Decanter centrifuge ,there are also installed screw conveyor. Between the vertical cutting dryer and Decanter centrifuge , there are screw pump to pump the discharged liquid to centrifuge. These liquid after treatment by centrifuge ,it will clean enough to back to mud system for reuse.
Oil base mud is very expensive material for the well drilling, and it is also important to improve the drilling efficiency and cooling the rig and protect the rig ,and also balance the pressure between inside and outside or machine. Our solids control equipment is aim to keep the good property of drilling mud. And recycle as much as possible from drill cutting, that is helpful to reduce the cost of drilling and improve efficiency. If you have demanded on these equipment, welcome to contact us.