As a large solids control and waste management equipment manufacturer, GN Solids Control has providing shaker screens to customers from over seventy countries. It's well known that GN shaker screens also means the most cost-effective shaker screens in the world. Thousands of drilling contractors are using GN shaker screens. GN Solids manufactures different types of shaker screens to cover those most used shaker screens. Now GN Houston warehouse is stocking 5,000 ~ 6,000 pcs screens, ready to go.
Besides GN shaker screens, GN Solids Control also manufactures some other solids control equipment like decanter centrifuge for a long time. GN decanter centrifuges are mainly used to eliminate finer solids less than 2mm from different sludge. GN Solids Centrifuge includes 9inch, 14inch, 18inch and 20inch as well as 30inch, which are classified by centrifuge rotating bowl size.
These 2 sets centrifuges are 14inch centrifuges that will be provided to a USA drilling company. They will use these centrifuges for barite recovery: the first 14inch centrifuge set at middle rotating speed and the second 14inch one set at high speed.
2 centrifuges play the function of 2 phase separation: the first one separate out most of those solids by volume while the second separate solids by mass. Or we can say the second centrifuge is mainly used to eliminate finer solids. Typically, GN Solids Control decanter centrifuges are used to separate out solids larger than 2~5microns.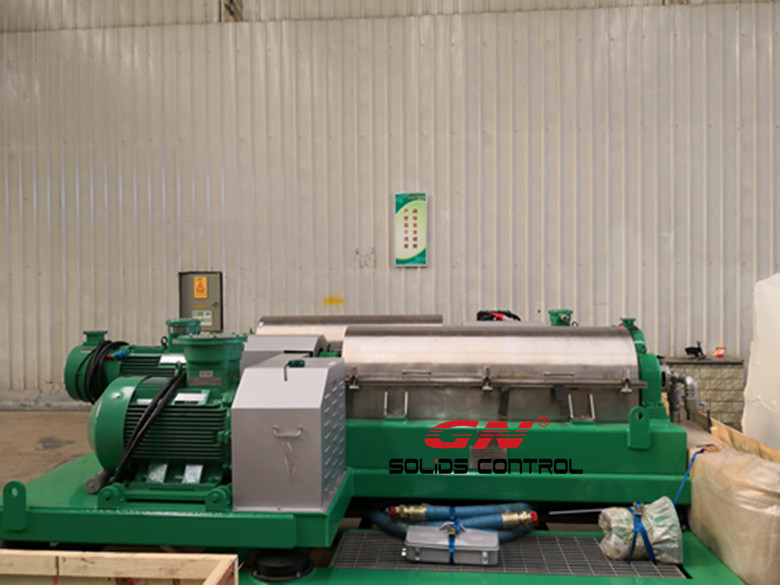 GN Solids Centrifuge rotating bowl is made by centrifugal casting and the inside impeller is protected by some tungsten carbide tiles fixed by bolts. GN Solids Control only uses top brands electrical control components such as in the VFD we are using ABB or Siemens brand. For the mechanical part like the 2 main bearings, GN Solids Control uses SKF bearing.
GN Solids Houston warehouse also has several decanter centrifuge in stock, VFD control with explosion-proof. All the spare parts or wearable parts are accessible from Houston as well.