With the development of GN, we have accumulated lot of experience and technology about the solids-liquid separation. Not only drilling mud treatment,but also some other industries such as food industry, beverage industry, biological material extraction, waste water treatment etc. Decanter centrifuge and other solids control equipment as our featured machine, which has stable quality and get good feedback from our client. But most time the shale shaker,mud cleaner are used to treat the mud with high solids content ,and it can not be used in food industry. GN Screw press dewatering machine are developed for low solids content material treatment. Last week we delivered out GNDN-202 model screw press to Peru for the food material dewatering.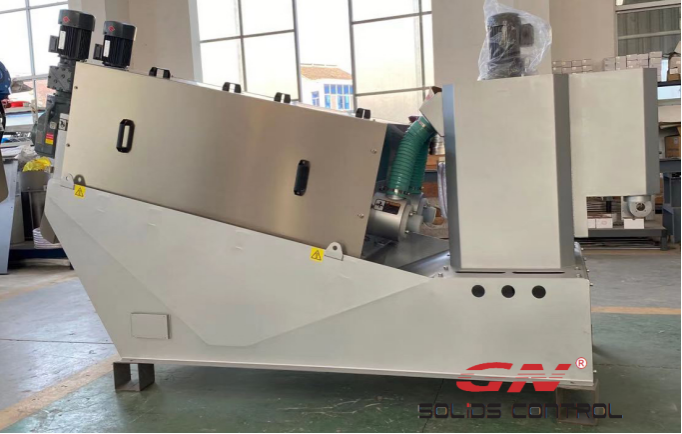 Screw press utilize reduce the space and press the material to reached the dewatering purpose. The main body of the screw press sludge dewatering machine is a filtration device composed of fixed ring and moving ring, in which the screw axis runs through. The
front section is for concentration and the back section for dewatering. The filtering gap formed between the fixed ring and the moving ring of the dewatering screw press and the pitch of the screw axis gradually decreased from the concentration section to the dewatering section.The rotation of the screw press shaft pushes the sludge from the concentration section to the dewatering section,through reduce the gap to press the material and dewater the sludge.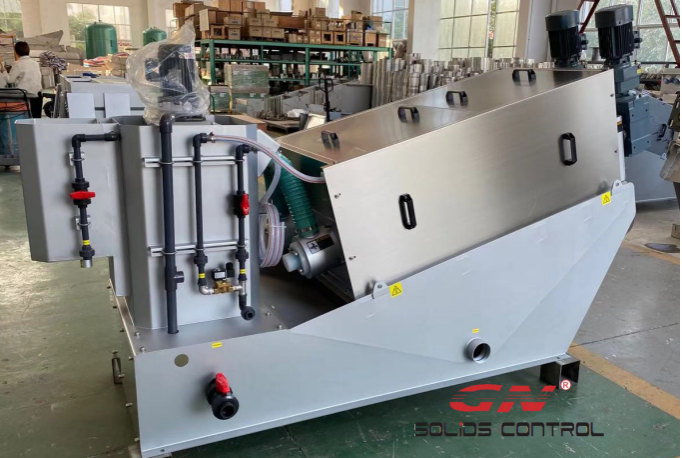 As usually, Screw press dewatering is good performance to treat the material that solids content less than 5%, for some tiny particle, we suggest to add flocculant to combine the tiny particle into big. Which can help to get the best separation effect.
Compare with decanter centrifuge, screw press is energy-saving , it has low electric consumption, and it is very suitable to treat some material with soft solids. We have several modes that capacity from 0.5m3-52m2/hour, if you want to know more about our screw press dewatering machine, please feel free to contact us.