At the beginning of drilling history, people use clean water to dilute the solids content in drill mud. Sometimes, diluting drilling mud thorough adding water is good way and necessary , but for some high density drilling slurry , the dilution cost is very high. If this dilution costis used to purchase solid control equipment, the economic benefit will be better.
One or more of the following technologies are used on site to remove the solid phase in the drilling fluid
screening technology: shale shaker for drilling fluid, and strong water sensitive mud shale removal device;
Cyclone separation technology: desander and desilter;
Centrifugal separation technology: coarse mesh and sedimentation centrifuge;
Gravity sedimentation technology: sedimentation tank and dewatering device.
In general, these technologies can be accomplished by using separate equipment. However, in some cases, these equipment can be used in combination. For example, like the mud cleaner, it is to fix a hydrocyclone on the vibrating screen. Another important combination device is the drill cuttings dryer (also known as rotary shale shaker), which is a centrifuge equipped with a conical shale shaker, which can be used to separate the drilling cuttings in the drilling fluid to recover the drilling mud before treating the drilling cuttings. In addition, these devices help to improve the solid phase removal efficiency. For example, sometimes a vacuum or atmospheric degassing device (installed in front of the centrifuge, especially between the shale shaker and the desander) is installed to remove the gasbubbles in the drilling fluid that can cause the pump to evacuate and reduce the density of drilling fluid.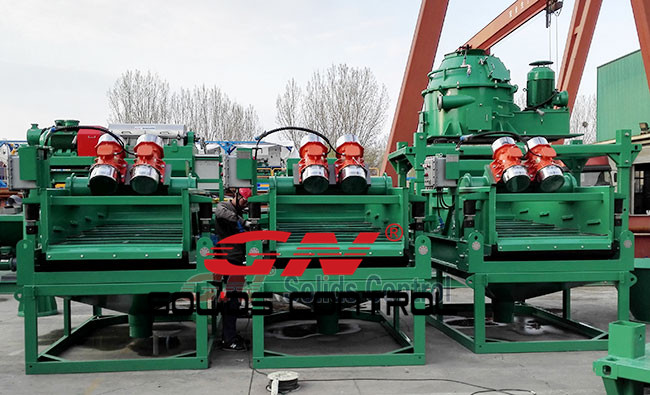 Select the suitable solids control equipment is economic way to keep the mud property, improve drilling efficiency and protect rig machine. GN Solids Control can provide all these equipment and also customized system. If your have demanded on these, welcome to contact us.