Hook strip shaker screens have many different type, soft hook strip, metal back (back bounded) hook strip; the metal back hook strip can be flat type or Pyramid (PMD) type. And the hook can be any structure according the design of the shale shaker, Replacement screen for Derrick 500 haves soft rubber strips at both sides of the screen.
1. Soft hook strip screens
Soft hook strip screens usually used for fine solids separation. In China, a lot of solids control supplier still supply one motor unbalanced small shaker that used for desander desilter underflow shaker.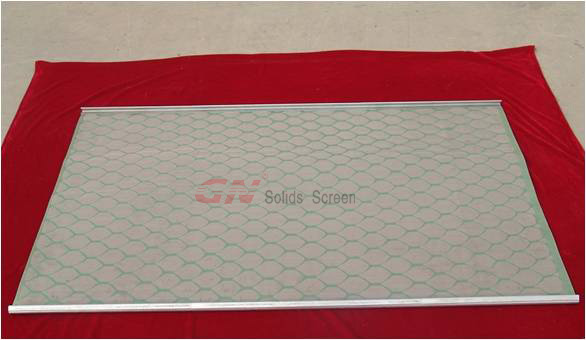 2. Metal back hook strip screens
Derrick 2000 is a typical metal back screen, there are a lot of shaker suppliers supply shakers whose screen is same type, and same dimension as Derrick 2000, for clients' convenience to find screen spares.
3. Flat or PMD
Pyramid technology can offers Up to 56% more screen surface area, maximize solids removal capabilities while significantly reducing costs associated with drilling fluid and disposal.
Utilizing pyramid screens will lower the percentage of drilled solids in the mud system. Less dilution will be required, decreasing both total drilling fluid requirements and disposal costs. In addition, cleaner drilling fluid will decrease down hole problems which can adversely affect drilling time.
Derrick and FLC are marks of Derrick Corporation